Our 1988 XJSC now needs exhaust and will it be California legal???

XJSC LS Upgrade, Part 5

July 2019
Exhaust System, Getting Up and Running, and then California Emissions Inspection and Approval......
At this point we had already fired up the car to check all was good. With fingers crossed, the key was turned and it started right up. With the clutch working and radiator full, it was moved onto the 4 post lift to get a proper exhaust system.
Exhaust
As mentioned earlier, this car was fully converted to an LT1-6speed drivetrain way back in 2003. That project included a very nice 2 1/4" dual exhaust system (with no crossover) that worked well. However, since then, and since we moved mostly onto LS conversions, all of the conversion exhausts have been 2 1/2", and we've found that an X-pipe in the middle helps flow (not a surprise) but also greatly damps noise (that discovery was a surprise). Also please remember that we're in California so the car will need to pass the state's very rigorous "Engine Change" specifications, so every part used, up to and including the exhaust system and it's configuration, needs to be just so. In reality, the California requirements don't really hurt performance-there is enough flexibility to both reasonably fit the car and get a good result.
In building the exhaust, and to be sure it both flows well and meets our requirements, we will use:
1) Use 2 1/2" pipe , front to rear, full dual, with all piping mandrel bent for high flow
2) Install a central X-pipe
3) Use original GM catalytic converters (in this case, from the 2002 Camaro)
4) Use either original GM exhaust manifolds or aftermarket headers that are California approved (these do exist for the Camaro but they don't fit the Jag chassis)
5) Routed under the rear suspension, not through it- this makes for better flow, has minimal ground clearance issues, and is simpler to build.
Starting off, we used an OE set of GM manifolds, a pair that fits our chassis. This particular set was chosen because the left side can be set up in a way to clear the steering (always a problem on Jag-GM conversions since the dawn of time). From there, we come almost straight down and into the Camaro cats, just like the Camaro was originally.. The cats themselves are actually not that small but the chassis is fairly wide in that area left and right so it's possible to get them positioned basically horizontal (the smaller overall size of the T56 bellhousing and transmission helped...). Here's a pic as we formed the exhaust from the cats back and into the X-pipe, and then one looking rearward from the cats into that finished section. (BTW, on this system we used an inexpensive exhaust pipe expanding tool for the first time- it is powered by an impact gun allowing the pipe sections to be slid into each other for easier alignment, adjustment, and welding- it was fabulous and only about $100..)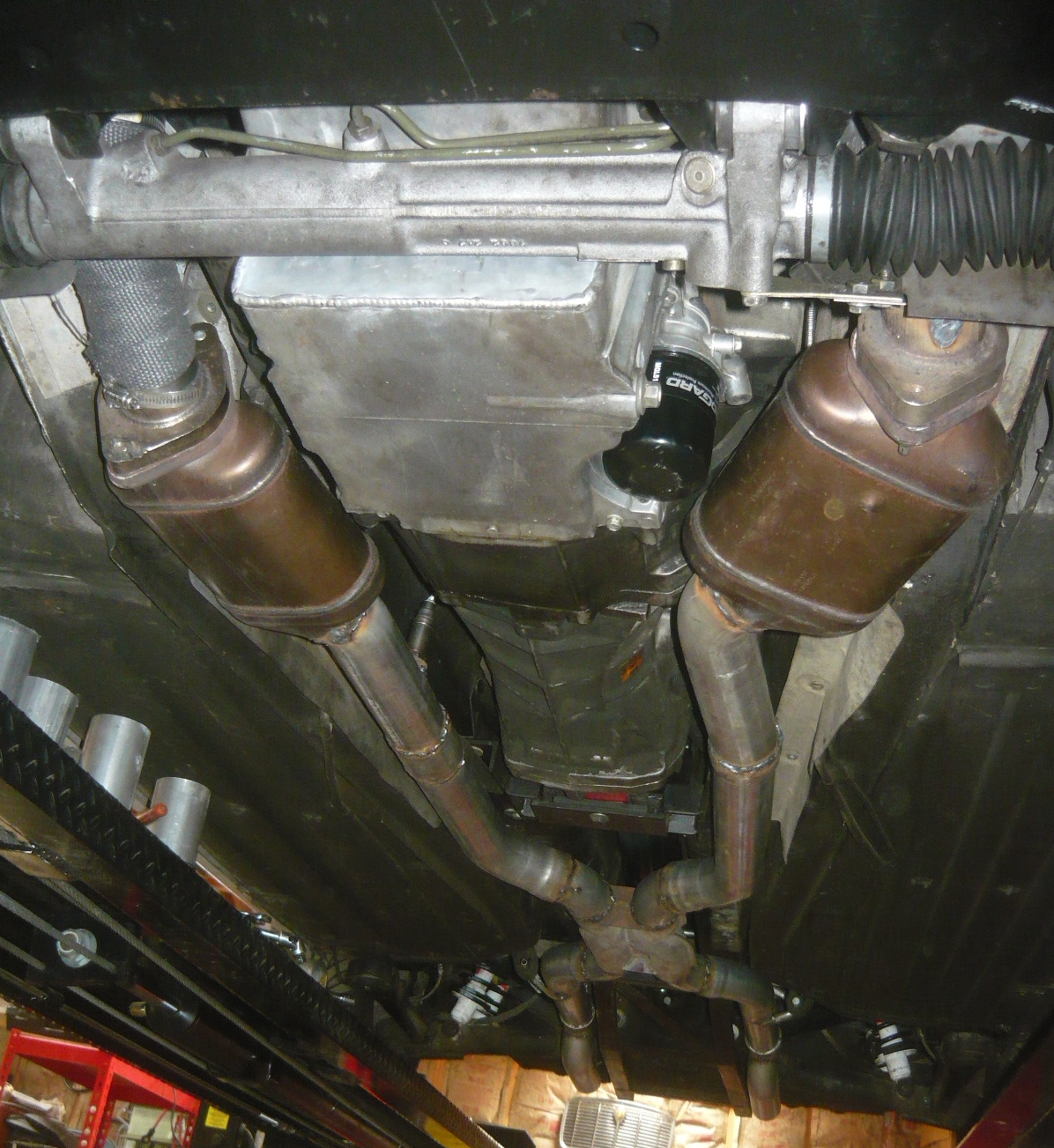 And once that section ahead of the rear axle was complete, it looked like this:
Going rearward, the plan was to go under the rear suspension. Also, this car is an XJSC (the T-top version of the XJS, modified from a regular coupe by the factory) and has extra bracing in several places to maintain body stiffness. One of those stiffeners is a ladder-style member that runs from the trunk floor forward, under the rear suspension, and ties into the floorpan just in front. We needed to get around that, and going under it would be too low. Luckily, it's pretty narrow (only as wide as the bottom of the differential). Also, we wanted the lowest point of the exhaust to be directly under the differential area. These next 2 pics show those 2 sections being formed and how they go under the diff and also just left and right of the stiffener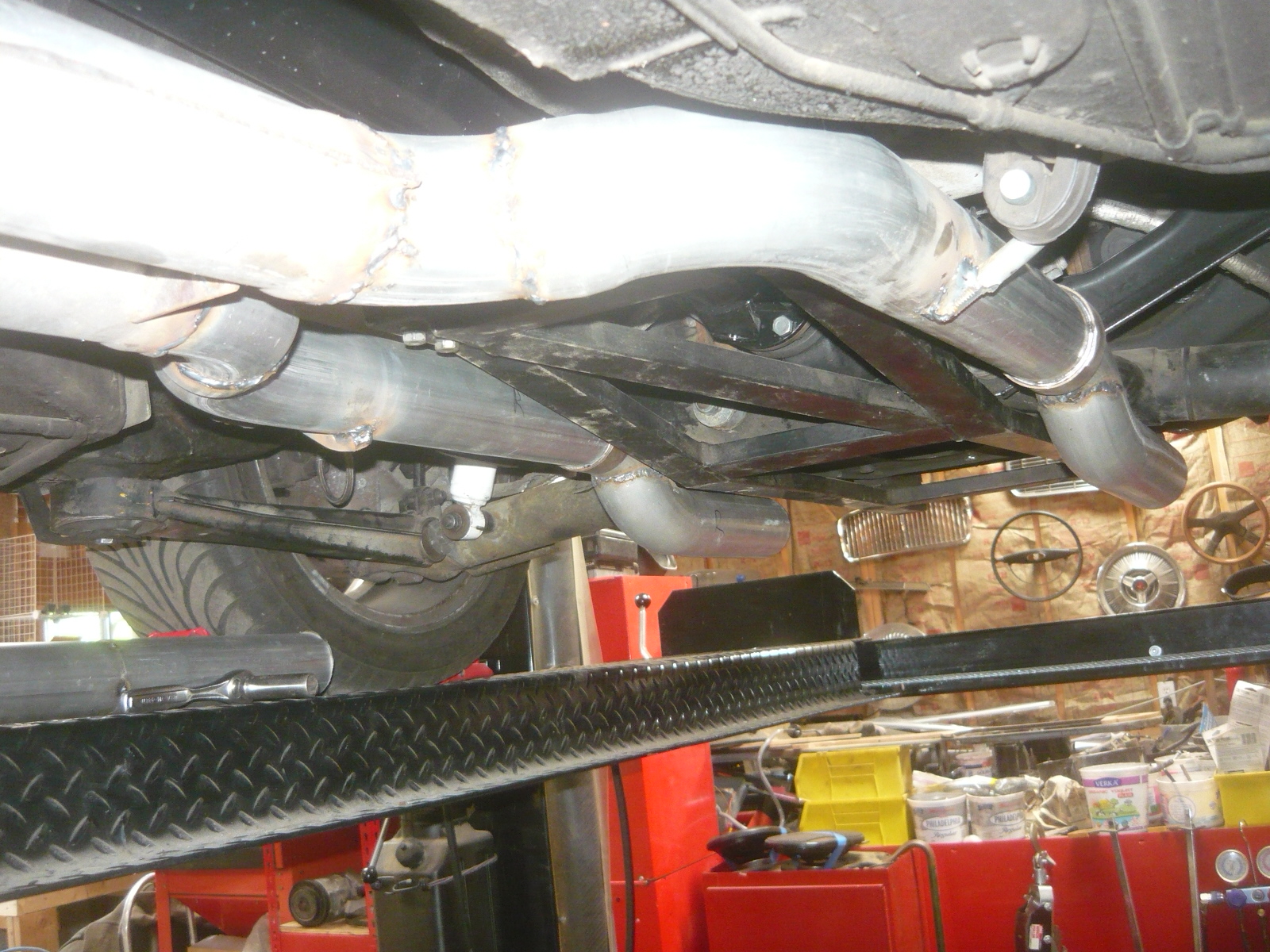 What you may notice missing here are mufflers. What we have found is the combination of the catalytic converters up front and the X-pipe in the middle does a great job of mitigating noise. It's not quite quiet enough to have no mufflers at all, so 2 simple glass packed resonators, mounted in the rear where the original Jaguar can-style restonators were is all that was needed- simple. The exhaust exits in the stock locations and we are done.
And now the $64,000 question: How Does It Run??
In a word- FABULOUS !!!. For me, it's just a joy to get in and go with this car. The engine is smooth and revvy, the shifter quick and short, and the power is just fantastic. The clutch feel is medium to light, but very positive and predictable. Remember, besides the engine/trans swap we also upgraded the rear end to a more aggressive 3.54 ratio and that has transformed the car. The acceleration pushes you back hard into the seat- this is a car that can get you into big trouble with - quickly. I've only run it some 150 miles or so to this point and there was a smile on my face for every one of them.....
Emissions Certification- Yes, it is OBD2 California Legal and Approved!!
For those of you in the other 49 states and may not know this, California has mandatory biennial emissions inspections for all cars 1976 and newer. Our converted cars are no exception, and the state has very clear rules on what is allowable for conversions (new engine has to be as new as the car or newer, no truck engines in car, etc.,.). There is even a very detailed state published guide for conversions and because this car is a 1988 model, it need approval. That approval involves a special inspection at a state run station to be sure the conversion meets all of the criteria. Once the inspector approves it, he applies a special sticker to the car and then at can be inspected at any private emissions station in the future.
For our case here, the Jag is using a 2002 Camaro LS1 drivetrain so it needs to be set up with standard, unmodified, GM OBD2 computer and programming, and all of the factory GM emissions components. In general there is a little flexibility as far as packaging the new hardware into the car, but in the end, all of the pieces need to be there and functioning properly. Ultimately, with a couple of minor changes requested by the inspector, the conversion was approved. From this point forward, the car will be inspected as if it was a 2002 Camaro.
Below is a pic of the engine compartment as approved. Everything you see there is standard GM 2002 Camaro with the exception of the engine covers (Corvette pieces- aesthetics only, no impact on emissions) and the air intake (a California approved aftermarket high flow system from K&N for the 98-02 Camaro LS1 cars).
So now I can drive the car legally here and enjoy it, which should be great as we still have 3-4 months of great weather on this coast
What's Next? The AC needs to be set up, so that will be in the next installment .
Questions or comments?? Send me an Email: andrew@jaguarspecialties.com
Talk to you soon,
Andrew