Suspension and Steering Upgrades
Sway Bar Kits-All Models
See below
Polyurethane Steering and Suspension Bushings
70-87 XJ6, XJ12, 76-96 XJS (click here)
Rear Suspension/Shock Conversion Kit
88-94 XJ6 and Vanden Plas (click here)
Sway Bar Kits:
Jaguar Specialties manufactures front sway bar upgrade kits for various Jaguar models. All of these kits greatly enhance cornering stability and give the cars greater composure in the turns, while not affecting overall ride quality at all. The standard Jaguar sway bars are far too small considering the size/weight of these cars, and these upgrade sway bar kits completely address that deficiency. Each kit is designed as a bolt-in upgrade (no modifications are required to install), and mounts in the stock location on the vehicle. Installation can be easily accomplished by the home mechanic and the end result is very satisfying. The sway bars are made exclusively for Jaguar Specialties by a world-renowned aftermarket suspension parts company with over 30 years experience in the industry. Each bar is manufactured using specially made bending jigs (to assure accuracy for a good fit), and is finished in a black oxide coating that looks great and is very durable. The kits are supplied with all new polyurethane mounting hardware for good response and long life.
Kits are currently available for:
70-87 XJ6, XJ12, XJ6C, XJ12C, VDP, and all XJ
88-94 XJ6 and VDP
Note: Kit 1 is supplied with new polyurethane end link hardware; Kit 2 utilizes the stock Jaguar end links
Just to give you an idea of how the Jaguar Specialties sway bars compare to stock, here is a little chart of sway bar diameters:
| | | |
| --- | --- | --- |
| Jaguar Year/Model | Stock Sway Bar Diameter | Upgrade Sway Bar Diameter |
| 70-87 XJ6, XJ6C, VDP | 3/4" | 1" |
| 73-79 XJ12 | 7/8" | 1" |
| 76-96 XJS | 7/8" | 1" |
| 88-94 XJ6, VDP (XJ40) | 7/8" | 1" |
| | | |
What is important to remember is that torsional stiffness of a sway bar (the ability to control body roll as the car goes through a turn) is related to the 3rd power of the diameter. That means that seemingly small changes in diameter actually yield very large changes in torsional stiffness, and as a result mean less body roll of the car as it negotiates a turn. For example, a stock 70-87 XJ6 is equipped with a 3/4" front sway bar. The 1" diameter sway bar upgrade is a 34% increase in diameter, but because the torsional stiffness is related to the 3rd power of the diameter, this change actually results in a 140% increase in stiffness. Similarly, the same upgrade on an XJS (7/8" stock to 1" upgraded) is only a 15% increase in diameter, but a 53% increase in stiffness. In all of these cases the difference in the car's handling and composure in turns is very noticeable.
Here are some photos of the actual kits:
70-87 XJ6, XJ12, XJ6C, XJ12C, and all XJS


88-94 XJ6 and VDP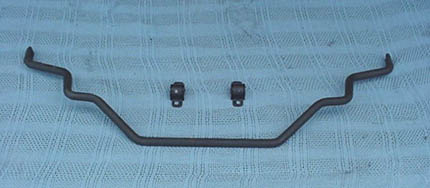 New suspension upgrade products currently available on request:
3/4" Rear Sway Bar Kit, 70-87 XJ6 and all XJS