My own 1975 XJ6C
Update 1, March 2015, See below
Update 2, February 2016, Click Here
This car played a very big part in the development of our XJ6-XJS LS conversion kits. Back in 2007 I wanted to start looking into developing a kit for the LS1 installations for the 70-87 XJ6 and XJS models, and needed a car. I had my mind set on something different (just like I picked an XJSC for the LT1 development back in 2003), and decided an XJ6C coupe would be great- something classic, but with the same performance potential as the later XJS models (same basic floorpan and suspension). The search was on, and I looked at a lot of cars. The choices ranged from barely-a-parts-car rustbucket to over-restored-sank-way-too-much-money-into-it cream puff, neither of which was really right. I looked up and down California at probably a dozen cars, even flying down to LA to see 3 in one trip (one with minor celebrity status- it was owned by Pauly Shore's mother- too bad it was junk). I was hoping to find a 1975 car, so it would not need emissions testing (big plus in California, especially with conversions). Right after getting back from LA, and being disappointed in general, I looked in my local Craigs List and there was a 1976 XJ6 coupe for sale, not 20 miles from me. After getting a little more info, it was clear the car was actually a 1975, and the deal was sealed.
The car itself had been converted years ago with a carbureted Chevy 350 Targetmaster and a T700R4 transmission, and was overall in ok running shape. But it was very different looking as a full fiberglass body kit (of unknown origin) had also been molded into the body all around. It looked like no other XJ6C. All of this work had been done years and years before, and the whole car was showing it's age. The right side floor was weak with rust, the body kit install had cracks here and there, and the engine was tired. But it was a good place to start. Here are a few pics of the car as it arrived.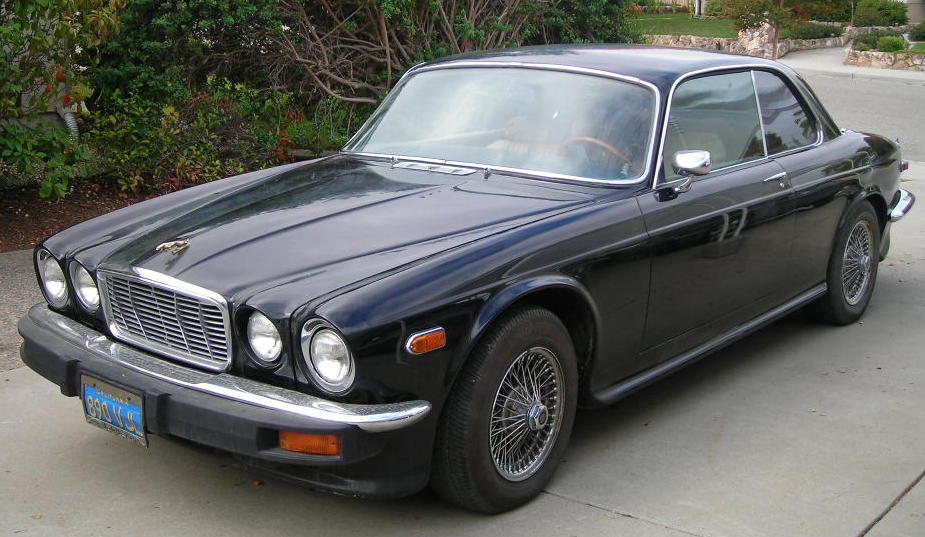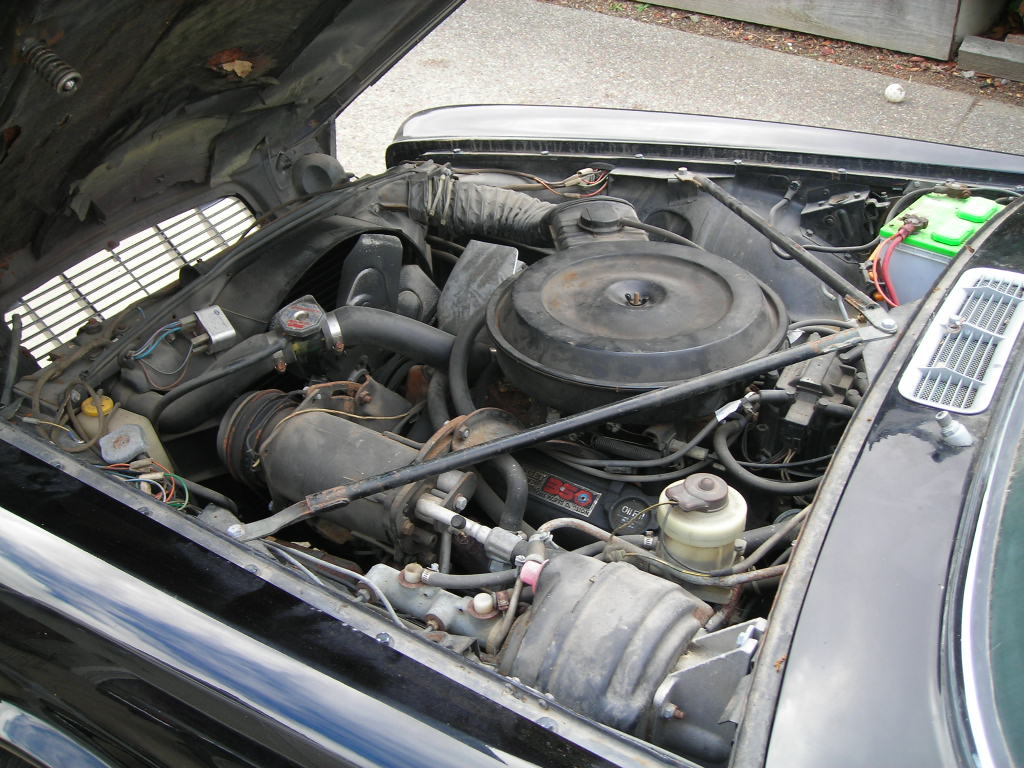 (when was the last time you saw wire wheels on a car with a body kit?)
Work began right away- out came the 350/700R4 which was sold off to a street rodder. I already had found a wrecked 1998 Camaro donor and that good LS1 and 4L60E automatic package was pulled out and prepped for the Jag. Over the next 2 months, that LS1 was in and out of the Jag probably 20 times for test fits, etc.,. Finally the correct set of mounts, shifter pieces. oil pan, and exhaust manifolds had been finalized. Much to my surprise, virtually none of the conversion parts used on the earlier SBC Jag conversions would work with the LS1- an entirely new conversion kit and related parts were needed. Luckily, because the XJS and the XJ6 coupe/sedans were built on the same basic platform, the parts developed here also were good for the 76-96 XJS cars. Anyway, that work led to the offering of LS conversion kits for these models, all of which were very well received by customers. The conversion in this car came out very well and features:
98 Camaro LS1/4L60E (EGR and air pump removed)
2 1/2" mandrel bent true dual exhaust (under the differential in back for less restriction)
High flow cold air intake with K&N filter
As I mentioned earlier, the car needed a lot more work than I earlier expected. The right side floor was too rusty to save, the brakes were barely adequate, and the front suspension was worn out. Starting from the front to the back, everything that needed to be done was done-the car got the full Jaguar Specialties treatment, using all of the parts we offer::
Front suspension rebuild with polyurethane A-arm and steering rack bushings, new sealed balljoints and tie rod ends, new KYB shocks, and 1" front sway bar upgrade.
Steering rack upgrade to later XJ6 Series 3 style (better steering ratio, more reliable)
Rear suspension freshened with new KYB shocks, new trailing arm bushings, and a 3/4" rear sway bar kit
Brakes fully redone- XJ6 Series 3 master cylinder, new booster, braided steel brake hoses, all new rotors (cross drilled in front), rebuilt calipers and semi metallic pads
17" XJR wheel set with 255-45-17 tires
Lowered 2" front and 1 1/2" rear
This was a project I worked on when there was time from other products- there were periods where it would get a lot of attention over a month or two, and then sit for 6+ months. This wasn't a straight out thrash to completion. The body also needed some work, so that was next area to look at. The rusty right floor was replaced (that was quite a job). Then I decided a classic but smooth look was what I wanted, so the car got the following body mods:
Removed all side marker lights
Removed al trim and emblems
Removed energy absorbing bumpers- go to earlier chrome style
Use Series 1 XJ6 hood and grill (gives more classic look up front- better fit with earlier bumpers)
Add European 7" outer headlight conversion (better night lighting and improved front end appearance)
There is still much to do on the car, but it's getting closer. The body work is nearly done, so paint is coming in the nearer future. And then I can look at the interior ( I'm off to a good start there with 89 XJS front seats- made by Recaro- very comfy) ...
Anyway, here are a few pics of the car now so you can what's been accomplished (sorry it's a little dusty...)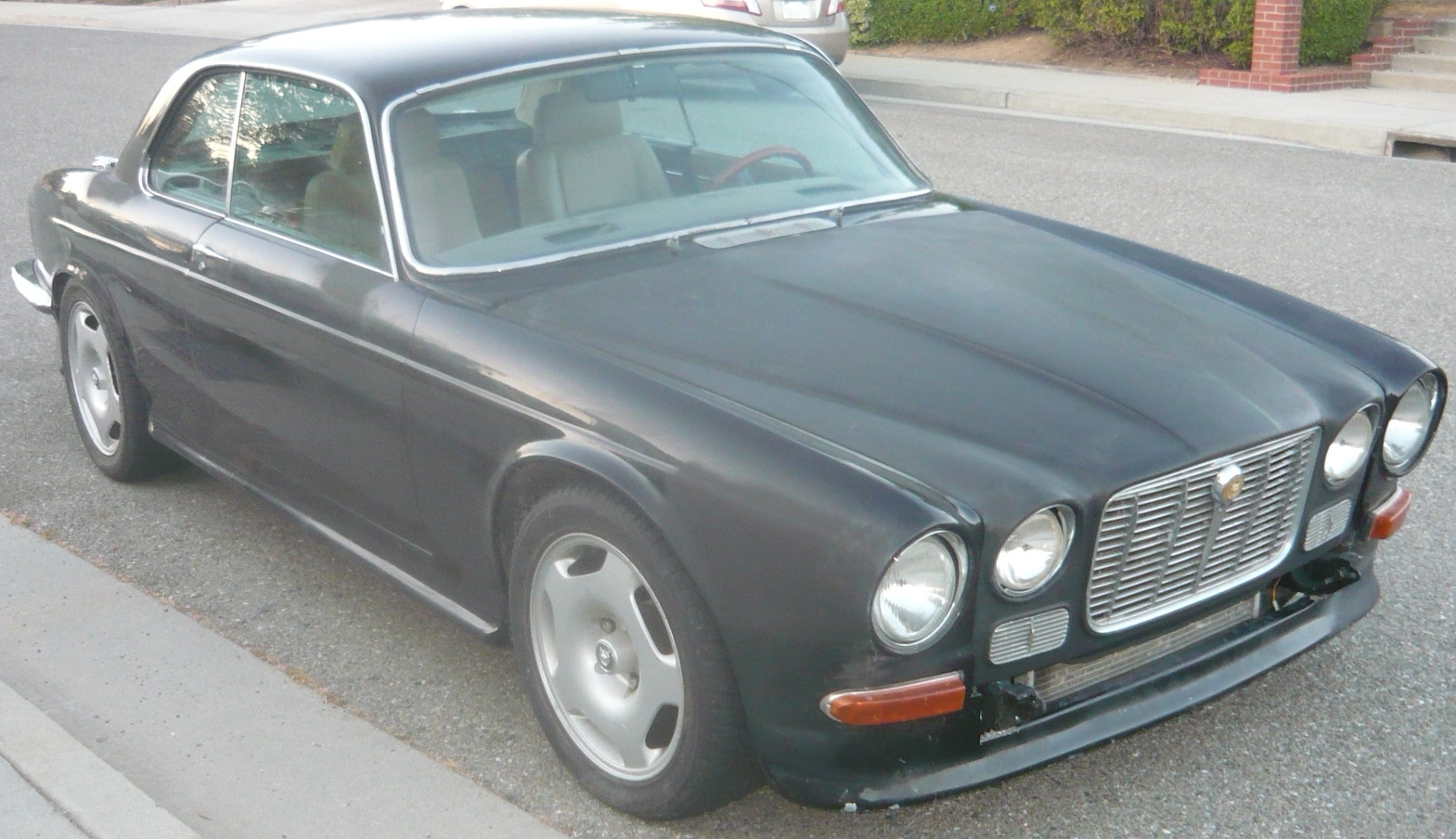 :